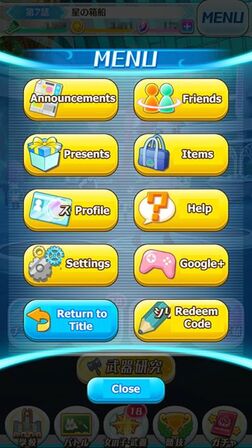 Welcome to the game of Battle Girl High School! Since the game is only available in Japanese, we have provided translations and understandings of buttons on the screens you are first introduced to (right and bottom). The menu buttons are self explanatory, so let's focus on the classroom buttons below.
School: Tap this button to get to the classroom.
Mission/Battle: Tapping this button will bring you to the missions list. Completing these battles and stories provided will reward you with gems (3 gems for stories and rank A and below battle completion, and 6 gems for rank S battle completion).
Team Setting & Weapon: This button will bring you to your team builder. Teams are the characters you will use in battle. Simply click and drag a character from the selection on the bottom to a platform. Click the small weapon button to change that character's weapon.
Arena/Competition: The arena is where you can be paired up with other online players and play games to earn points. Points can be used to spin a wheel and earn prizes such as weapon upgrade items.
Gacha: This is where you will draw for cards. Cards supply stats for your characters in battle, as well as outfits and special skills. Gems will be consumed for gacha.
Daily Achievement: Upon completing tasks, you will gain rewards. Daily achievements are the same each day.
Changing Camera: Changes where you are looking from in the classroom.
Training Field: Characters will train here to gain EXP. However, you must send them to train, and they will train for a specific amount of time. The longer they train, the more EXP their card will gain. Affection can be gained by completing training. To start training, click on a character in the classroom, tap the sports equipment, and then select the designated amount of time you wish to train. Characters can be used in battle while training.
Focus on Character: Used to quickly find and center on a character in the classroom.
Event Board: Clicking the board will bring you to the event campaign. Completing the stories and battles will reward gems the same as normal ones, depending on the event.
Maximum Training: The amount of characters training out of the maximum amount.
Cheer Points: Used to speed up training and turn a card's stars to hearts when it has reached maximum affection.
Coins: Used mainly to buy gifts to give to the characters.
Gems: Primary currency. Gems are used for many things such as gacha and reviving a defeated team during battle.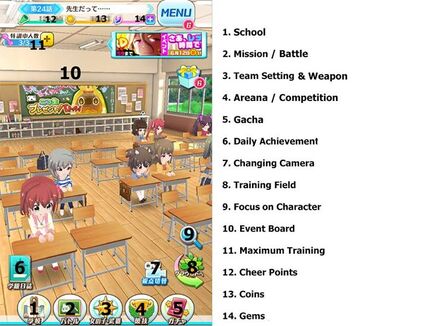 Community content is available under
CC-BY-SA
unless otherwise noted.